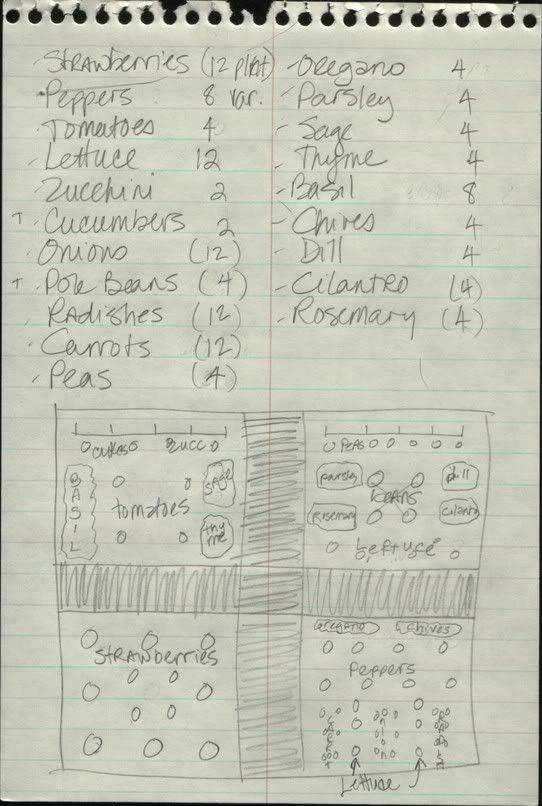 OK, this is what happens when the winter weather is rainy & icky & you just wish you could go out & start digging but it's still two months too early. You plot, chart, revise, count, graph, revise, doodle, map, and revise. You make a garden plan. Your final garden may not look like this, but that's OK too. You're getting started.
Here's my plan for the 10x10 (approx.) plot that we let lie fallow last year -- we probably would have had time to get a garden in if we had jumped right on it in April, but we had too much other stuff going on right after the move, and by the time June rolled around it seemed too late to start. This year, my plan is to eschew rows and plant in four wide raised beds, with a path running down the middle on each side. Numbering the quadrants from the upper left and going clockwise, the plan is thus:
1) A trellis on the north side (next to the shed) will hold cukes and zukes, which I'm going to try to grow vertically on netting this year. Not only are the fruits supposed to grow straighter, but they tend not to get overlooked and grow to the size of
Ah-nold's
thigh before they're spotted. (Zucchini, in particular, stops producing once you allow it to mature a fruit like that... it's as if the plant says to itself, "OK, I'm done for the year!" and just quits.) In the middle of this bed will be tomatoes, which were my pride & joy in my California garden -- about the only thing I could grow reliably there -- surrounded by basil, sage, and thyme. Sounds like an Italian feast right there.
2) Another trellis will support peas (o those fragrant blossoms! reminds me of my grandma) at the north side, while an obelisk in the middle will amount to a hill o' beans, I suppose. I wonder if that's the origin of that expression? Pole beans grown on an obelisk-type support really do end up looking like a big green hill. I put all the agressive herbs in here -- parsley, cilantro, dill, and rosemary -- since they won't let the beans bully them too much. Some lettuce at the bottom will benefit from the bean-hill shade.
3) The root cellar. Carrots, onions and radish will be interspersed in short rows with some more varieties of lettuce. Peppers will be planted in cages here, probably about half sweet & half hot, but I haven't decided exactly which varieties yet. For salsas, I am inclined to Anaheims, but Mike wants it hot-hot-hot with serranos or jalopenos. One of each, perhaps. I threw in some oregano & chives next to the peppers because they are supposed to help ward off pests. When the carrots and radishes are played out here, I'll plant some late-fall garlic in their place.
4) The last quadrant will be given over entirely to strawberries. One can never have too many strawberries, especially when one has a) kids who love strawberries, b) neighbors who love strawberries, and c) plans to make jam. :-)