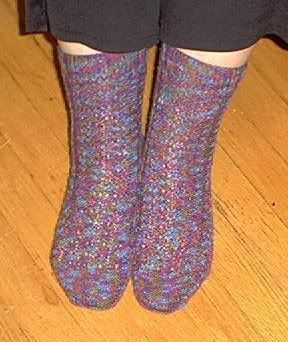 Another pair of socks made with Elann's SITM yarn. Again, my own design, just playing with a mock cable. I used the twisted german cast-on for the cuffs, and I've decided I detest it! For a reputedly stretchy cast-on, it has almost NO give. Perhaps I'm doing it wrong, ugh.
I brought a couple of skeins of sock yarn to work on my second day, after I realized that the last few hours of the help desk's shift consist of monitoring the phones & servers against catastrophe, but otherwise a lot of dead time. When my co-worker (who was training me) started giving me tips about the best sites to download solitaire games, I quickly realized that there would be no objections if I knitted during the slow times. Heck, if the on-call guys are in the back playing EverQuest, no one's going to care if I have a sock in my lap, as long as the Nextel is turned on.
One of the student workers is fascinated by my knitting, not in a "Hey, can you teach me" way... he simply seems to be agog that someone can do such a thing with sticks & string. He comes by every few days to check on the progress of the socks. Today, as I was starting the toe shaping, he stood by my desk & watched me knit for a solid
fifteen minutes
, mesmerized by the movement of my fingers. I don't know if I remind him of his dear old granny or if he is just very susceptible to hypnosis.