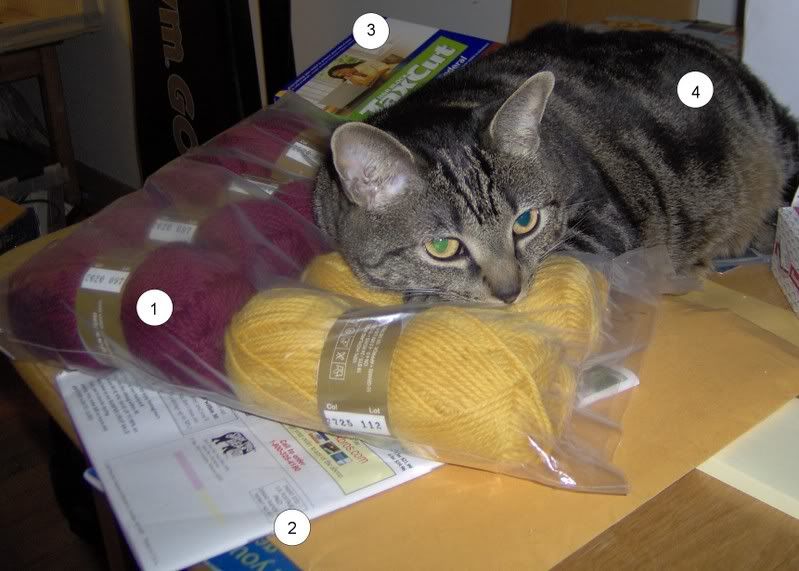 This photo, originally snapped just for the cuteness factor, is actually a pretty decent representation of what's going on in my life just now.
1. Red and gold yarn: The Quidditch sweater is coming along nicely. I've finished the front & back & have just started on the sleeves, which I am knitting both at once. Speaking of Harry Potter, there's a
whole bunch of new photos
just released -- stills from the new movie this summer. Can you
believe
that they've changed the house sweaters yet again?!? Now it's a charcoal-grey cardigan with fairly large black or dark grey buttons, with house colors trimming the waist and cuff, but not the neckline. The shirt has gone from crisp white to creamy ivory. Hosts of knitting fan-costumers stamp their feet in frustration. Hunter's Quidditch uniform is firmly placed in SS/COS, in case you're wondering; I'm not going to rework it at this point. (That's
Sorcerer's Stone
and
Chamber of Secrets
for those of you who are not obsessive HP fans.)
2.
Stark Bros
catalog under yarn: The garden is getting ready to go, and there is much planting of sprouting trays (see previous post). We also put in two Stark apple trees out at the
dome
, a Lodi and a Braeburn. Hopefully they will thrive and become the start of our own little orchard.
3. Tax preparation software behind the yarn: Yes, I know I ought to get that done. It's almost finished, really.
4. And finally, nothing is ever finished in this house until it has picked up its share of cat hair.