Welcome to the new blog. This will be a personal journal of my life as it changes, a chronicle of our cross-country move and new home, with fair amounts of yarn, sports, and cats (in no particular order) thrown in.
If you have come here looking for the Quake Report, my blog of my second & third seasons as a lineman for the
California Quake
, I apologize. That blog was a bit out of date (I hadn't updated it since my retirement in 2003) and so I recycled the address. I no longer play football, although I coached my son's
Pop Warner team
last year (and had a blast). I am still a total football nut & am very happy to be moving to a city that actually has an
NFL team
.
My life now is mostly centered on our move from southern California to central Missouri, and the geodesic dome that we will construct there. We'll be blogging the constuction separately, so watch for the link.
I am also a fanatical knitter & will use this space to showcase my finished objects, works in progress, stash enhancements, and various yarn prOn.
And just to round things out, here are some cute cat photos:
Friday, the tabby with the tufty bobcat ears.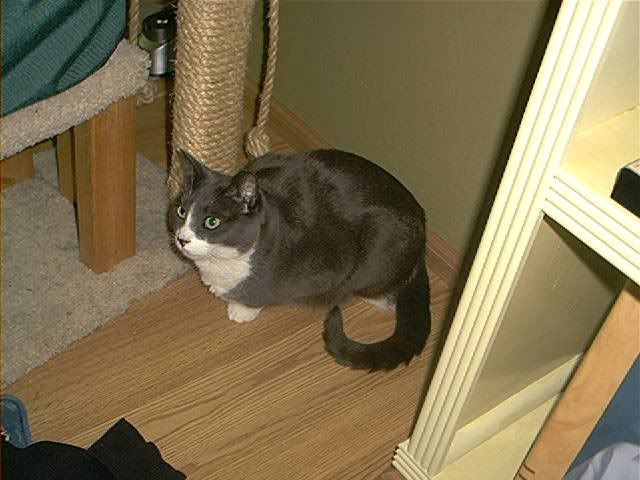 Pyewacket, the uber-dignified lady with the breathy Marilyn Monroe voice.